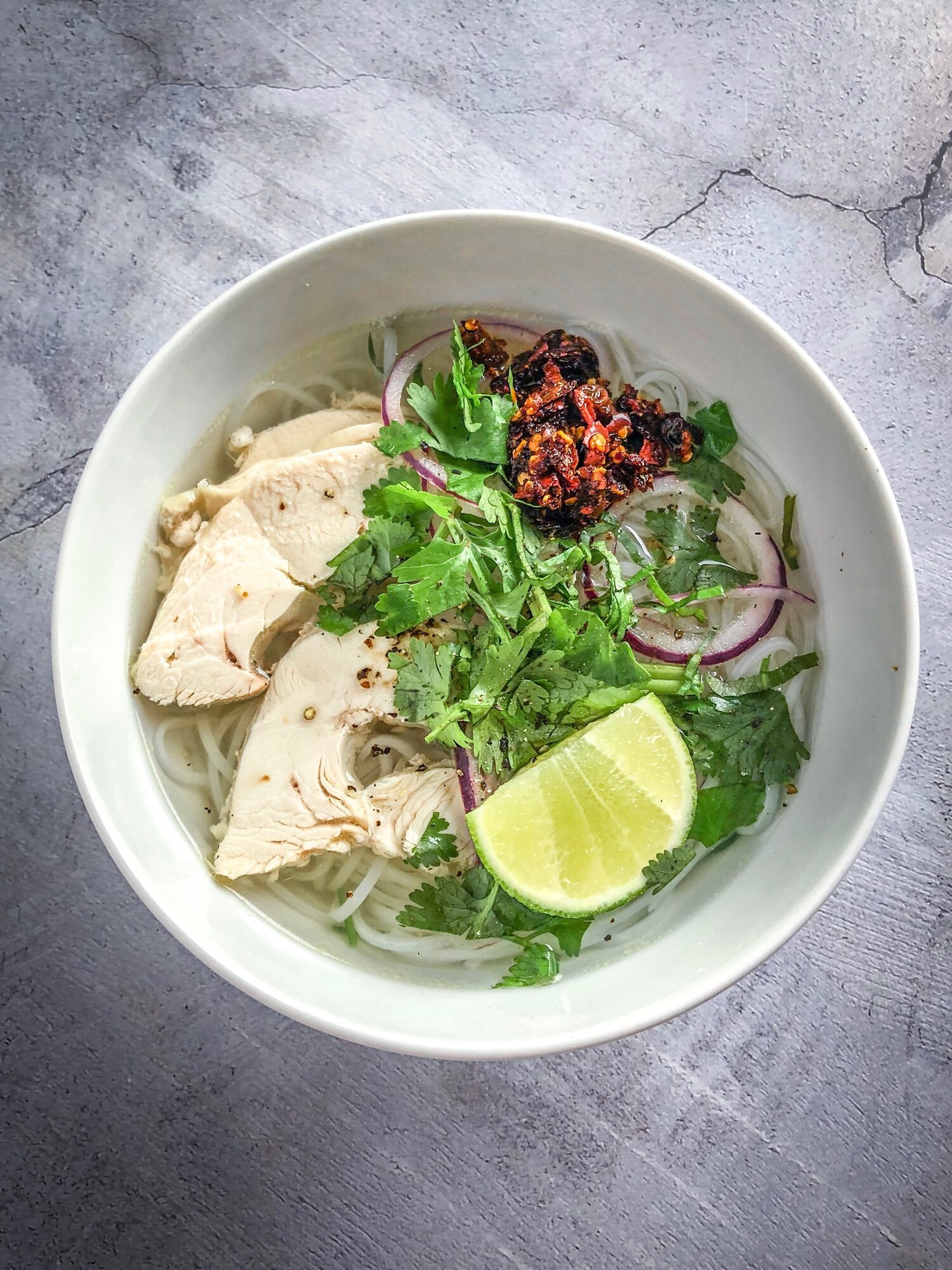 I love to make chicken pho since it requires less time to make than the beef version. Hands down a win for busy mommies! If you like, see the following for how we make our version.
Ingredients
1 whole chicken
1 tbsp salt
1 tsp sugar
2-3 scalions (or 1 small leek); additional to be sliced for garnishing
2 thumb size knobs of ginger, peeled (one sliced to be stuffed in chicken and one for charring to add to broth)
4 qt water
1 medium sweet onion, peeled
3-4 shallots, peeled
1 tbsp coriander seeds
1 bunch of basil
1 bunch cilantro/culantro, sliced thin
Preparation
Start by rubbing salt on chicken skin to clean. Rinse well under cold water and drain. Stuff sliced ginger and scallion/leeks into the chicken cavity. In a stockpot, add chicken, water, salt, sugar, sweet onion and bring to a boil. Skim scum as it floats to the top. Reduce heat to low when water boiled and cook chicken (30-45 min depending on size chicken) with pot uncovered until tender. Try to keep the same volume of water. If you noticed volume reduced, add only hot water to keep broth clear. Continue skimming the broth.
While chicken is cooking, broil shallots and ginger. If you prefer, char it over stovetop. Scrape off any charred bits and rinse under warm water. Toast coriander seeds over medium low heat until fragrant. Toss everything into a spice bag or tie in cheesecloth. Add to broth ~30 min before serving.
After 30-45 min, remove chicken from broth and pierce with thermometer to make sure internal temperature of the thickest part reads 165 or the juice runs clear and is not pink. Rinse it under cold water and set aside to cool. Once cooled, debone and slice into bite-size pieces. Adjust the taste of the broth with salt and sugar as needed.
To make your pho bowls, follow the direction on noodle package to prepare the noodles. In the meantime, bring the broth back to a boil. Fill the serving bowls 1/3 of the way with noodles. Top with chicken pieces, sliced cilantro/culantro and scallions. Add the broth. Serve with basil, lime wedges, chili (if you like it spicy) along with condiments like sriracha, hoisin, or fish sauce are optional.